Whether you run a B&B or a luxury five-star resort hotel, bed bugs can damage your business in more ways than one. The pests are easily transported, tucking themselves away in bags, boxes and other materials, and there's no way of stopping them entering your premises. Early detection of the pests is key to managing them and minimising their impact on your property. But what damage can bed bugs do to your accommodation or lodging business?
Loss of business and negative reviews
When a room is infested with bed bugs, your business loses revenue from that room, as well as potentially neighbouring rooms, whilst it's out of service, being treated. But the impact of bed bugs biting guests can run far beyond the initial identification and treatment of the problem.
Negative reviews on Tripadvisor and social media sites, as well as word-of-mouth, can all see your room rate drop as well as your occupancy. This impact may be felt immediately, but it may also impact your future ability to attract new guests to your property. Often underestimated, the long term impact of negative reviews after a case of bed bugs can be one of the most costly expenses the pests inflict on your business.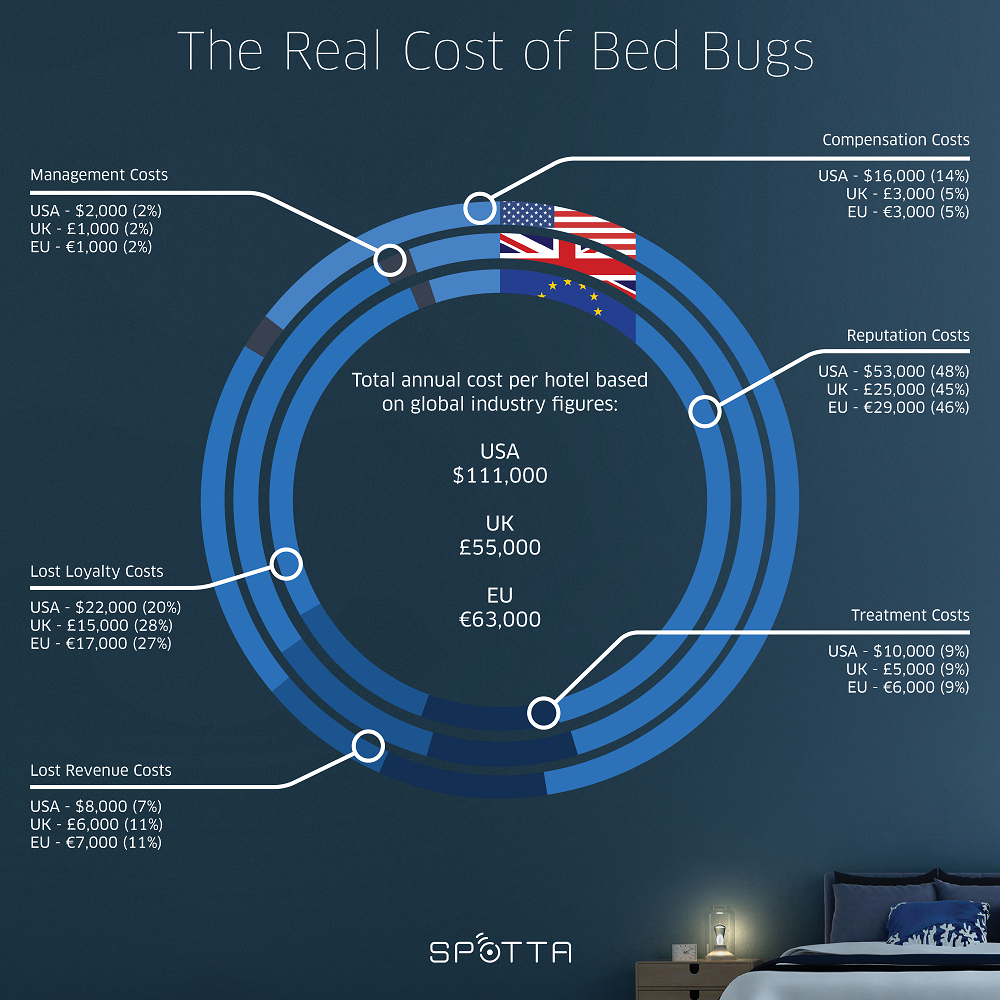 Treatment costs
One of the costs you need to consider when tracking the impact of bed bugs on your business is treatment. A deep clean is not enough to kill off these hardy pests; work with a professional pest controller to find the best solution which will depend on how large the infestation is, where the bed bugs are and other variables.
You may need to throw away furniture and incur costs for replacements. For severe infestations, you may need to remove floor and wall coverings. You should also allow for staff time to liaise with pest controllers, and housekeeping, maintenance or facilities management time to help return the property to normal. Treatment can vary greatly. Early detection will keep the costs low but, if bed bugs are allowed to spread through the building can be one of the largest costs you'll incur.
Guest compensation and litigation costs
Without Spotta, your guests are the most likely way you will discover the presence of bed bugs in your property. And no hospitality professional wants their guests attacked by bed bugs! When a guest is affected, compensation is likely - whether it be upgrading them, or offering complimentary services such as laundry, dry cleaning or food and beverage credit.
Even more costly is litigation, with lawyers throughout the USA now specialising in bed bugs to help affected guests seek legal compensation for being bitten. Even if you settle a case - just as the Trump National Doral Miami did shortly after President Donald Trump's inauguration in 2017 with former guest Eric Linder - any legal action will cost you dearly in legal fees and potential compensation.
Protect your reputation by identifying bed bugs early. Discover how Spotta can help prevent your guests being the way you find out about bed bugs.