Are you worried that your hotel is in the midst of a bed bug infestation? You might have asked yourself, where do bed bugs come from? Why are they in my hotel?
If so, it is probably wise to take some time to learn about where they come from, how to find them, and certainly how to remove them.
The risk from bedbugs for hotels doesn't stop at the infestation and pest control costs. Brian Virag, a bed bug specialist lawyer, and his team alone filed 50 lawsuits against the hospitality industry in 2019, before COVID hit the industry. Furthermore, bed bugs were reported in all 50 states in 2020. Bed bugs are an increasingly common problem for hotel owners and are expected to make a big resurgence post COVID, so it's critical to understand the causes and how to remove them.
The longer you wait to deal with these pests, the worse your situation will become. It is best practice to catch the signs early, remove them, and ensure steps are taken to prevent a repeat occurrence.
Where do bed bugs come from?
So where do bed bugs come from? Purses, backpacks, suitcases, clothing, imperfectly cleaned linen, and many other fabric or upholstered items can carry them into hotel rooms. All are fair game for bed bugs.
Hotels, hostels and Airbnbs are especially prone to these creatures due to increased footfall. The rooms are full of fabric and guests are regularly bringing in luggage that has been around the country and maybe the world. What's more, bed bugs are able to travel between rooms of multi-unit buildings like these.
Therefore, if one room is infested, it is only a matter of time before others are unless it's detected and treated quickly.
The thought of bed bugs is enough to make anyone shiver but, as a hotel manager or owner, you should be extra vigilant. The answer is that you need to put in place processes and tools to catch bed bug infestations before they take off.
More than just annoying
While it's universally agreed that bed bug bites are very irritating and most people will have mild skin reactions such as rashes and itching as a result of a bed bug bite. However, they are more than just an inconvenience because there are cases where severe allergic reactions have been recorded. There may also be severe effects on a person's mental health, such as insomnia, paranoia and anxiety. While this is rare, any lawsuit a person pursues against a hotel will focus on the 'damaging' consequences of bed bugs as a means to obtain the largest settlement possible.
Removing bed bugs
Obviously, the best course of action when discovering a bed bug infestation is to eradicate them before they cause any further damage. You have a few different options for how you go about doing this.
In general, at Spotta, we always recommend involving a reputable pest control company to deal with infestations. Effective treatment requires specialist equipment and insecticides not usually available to hotel staff.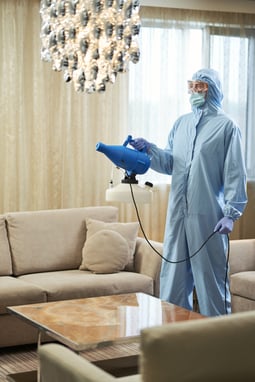 If your bed bug problem appears to be on a relatively small scale or confined to a certain area of the building, you might feel able to get away with using the cheaper or homemade methods of removal. Regular vacuuming of all soft furnishings can certainly help and all removable linen, curtains etc. can be carefully removed in sealed bags and hot-washed. These can help but are unlikely to completely eradicate a bed bug infestation unless it's in the very early stages. This means that the infestation is likely to slowly build up a second time. It also puts increased stress and responsibilities on the housekeeping staff.
Manual bed bug traps are a great way to see if bed bugs are present. Traps usually involve luring the bugs inside of them through the release of pheromones or increasing heat, both of which naturally attract bed bugs. However, they aren't an effective way to eradicate bed bugs, as they usually only catch a fraction of the bugs in a room.
The most effective solution to a bed bug infestation is to bring in a Pest Management Professional (PMP). They will typically use either:
A chemical insecticide spray.
The PMP will inspect the room and apply. For a thorough treatment, this can include moving and disassembling furniture, removing electrical points and light fittings and possibly even lifting carpets. Depending on the insecticide used, the room may be out of use for several days after treatment and it may be necessary for the PMP to visit more than once to ensure successful treatment.
Heat treatment.
The PMP will bring in specialized equipment to raise the temperature above the level that bed bugs can survive. This might be for the whole room if it can be sealed. Alternatively, they will bring a heat tent and put affected items (e.g. the bed) inside to heat. This is very effective and the room can be brought back into use very quickly. However, it is often difficult to get an entire room hot enough. Any cold spots become harborages for bed bugs to hide in and later reinfest the room.
There are a number of new treatments coming onto the market which avoid the use of chemicals. A good PMP will be able to advise if these are suitable for your property.
Involving a good PMP is is the only method of removal that guarantees the total eradication of bed bugs, or the exterminator risks their reputation.
The problem is that treatment takes rooms out of service and can be very disruptive. You might even need to cancel bookings. As a hotel, this is a huge inconvenience and results in loss of revenue.
This will also not exactly improve your reputation within the hospitality industry, as the presence of exterminators isn't always subtle. The stigma surrounding bed bugs will undoubtedly damage your reputation and your revenue, by extension. You can minimize this by catching bed bugs earlier, so your PMP can be in-and-out quickly and reduce the time and number of visits they need to complete their work.
Next Steps
The phrase "the best form of defense is a good offense'' sums up the best way to deal with bed bugs. Rather than waiting for an almost inevitable problem to materialize in your building before acting, it's better to prevent the occurrence in the first place.
Spotta is an early warning service for bed bugs. Our smart pest control system focuses on preventing an infestation by catching the problem early on. We do this with our Pods, small, discreet monitors that are placed in rooms and detect bed bugs 24/7.
Spotta is an effective combination of smart technology and machine learning, that can attract and identify bed bugs. The system then alerts management of their presence, allowing you to take action.
As a result, any bed bug problem can be dealt with quickly and discreetly, leaving your reputation and revenue intact. Get in touch with us today to discuss bed bug prevention for your hotels